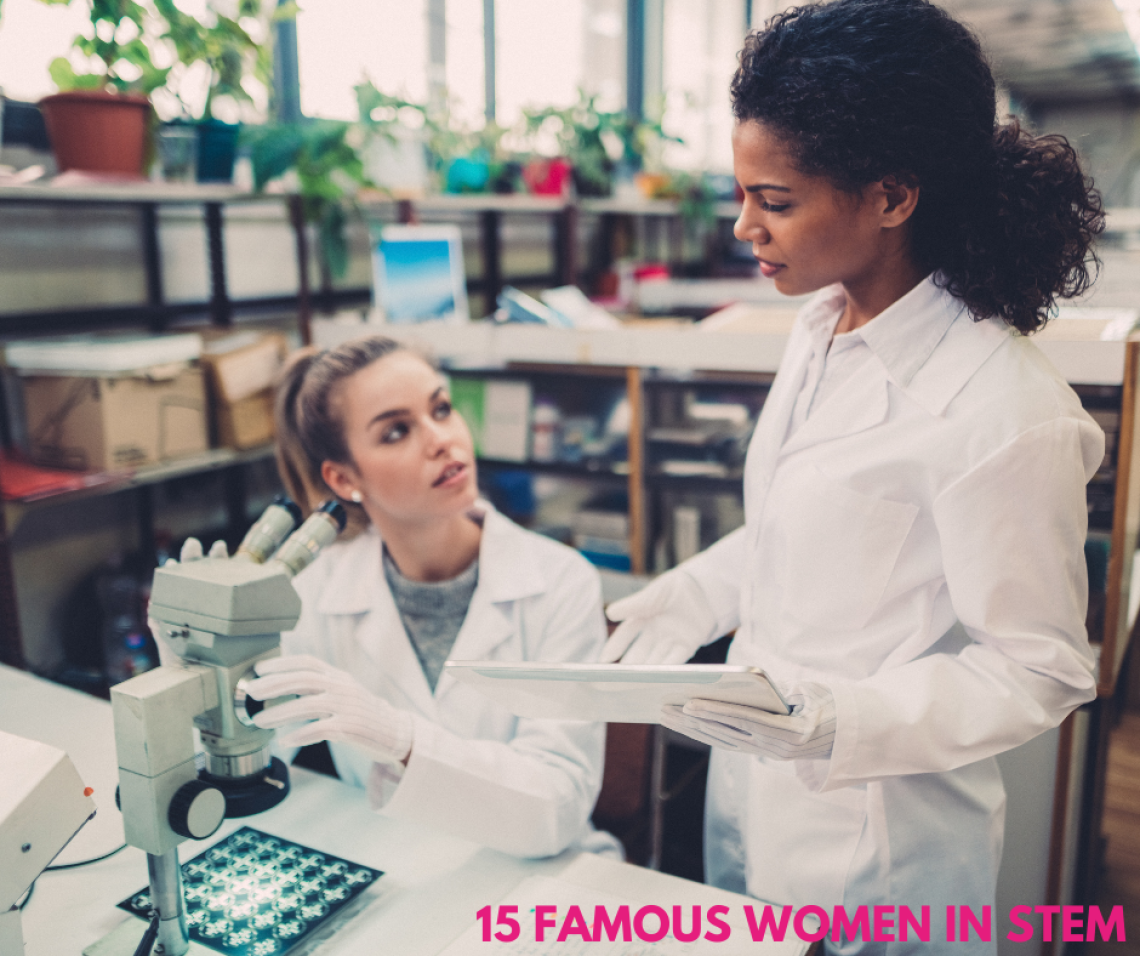 There are many inspiring women who have accomplished great feats in the field of Science, Technology, Engineering, and Mathematics (STEM). From Marie Curie to Katherine Johnson, these 10 remarkable women have revolutionized STEM fields and changed our world for the better. They blazed trails and cemented legacies with their incredible contributions, paving the way for future generations of female scientists to pursue their dreams without fear. By dedicating their lives to research, exploration, and innovation, they have broken down barriers, inspired change, and achieved milestones that will never be forgotten. Together they serve as an invaluable reminder that our dreams are achievable and encourage us all to follow our passions.
1. Elizabeth Blackwell
Elizabeth Blackwell was an incredible physician; she made history when becoming the first female in America to earn an M.D., graduating from Geneva Medical College of New York in 1849.
Her life was devoted to promoting medical education for females and occupational opportunities in the healthcare field. In 1857, she founded the New York Infirmary for Women and Children. Additionally, she composed a multitude of highly esteemed works on this subject area, including Medicine as a Profession for Women (1860) and Address on the Medical Education of Women (1864).
2. Katharine Burr Blodgett
Katharine Burr Blodgett achieved her aspirations and pushed boundaries when she became the first woman to be awarded a doctorate from Cambridge University, England. Before that milestone accomplishment, she had already earned both a Bachelor's degree from Bryn Mawr College as well as a Master's degree from the University of Chicago.
Not only was she the first woman scientist hired at General Electric's research lab, but Blodgett made ground-breaking contributions to her field. Her sharp expertise in surface chemistry and engineering resulted in the invention of a non-reflective glass system. Additionally, during wartime, she improved existing technologies for smoke screens and created a device for measuring humidity related to meteorology studies.
3. Rachel Carson
Rachel Carson was an accomplished and inspiring marine biologist who worked diligently to bring attention to the environment. Growing up in Springdale, Pennsylvania, she developed a keen interest in the natural world. She attended Pennsylvania College for Women, now Chatham University, earning her degree in 1929 and followed it up with a Master of Arts in Zoology from Johns Hopkins University.
In 1936, Rachel Carson began an inspiring fifteen-year career as a scientist and editor for the U.S. Fish & Wildlife Service, where she wrote pamphlets on how to conserve our natural resources, edited scientific articles, and transformed government research into prose writing. Through her work, she was able to create two books: 'Under the Sea-Wind' (1941) and 'The Sea Around Us' (1952). However, the highlight of her illustrious career came in 1962 when 'Silent Spring', her masterwork, challenged the use of synthetic chemical pesticides after World War II. The book inspired Rachel to testify before Congress that same year, calling for new policies that would safeguard both human health and the environment. Despite being regarded as an 'alarmist' by some people, Rachel Carson's passion for protecting our living world creatures has been echoed ever since and continues to inspire generations around us.
4. Marie Curie
Marie Curie joined the ranks of history in 1903 when she became the first woman physicist to win a Nobel Prize, and her incredible work didn't end there. With her later award for Chemistry, Marie was also recognized as being the sole individual to have been awarded two Nobel Prizes! Alongside her husband Pierre's efforts, they developed polonium and radium findings that revolutionized healthcare with X-ray technology.
Maria Curie was a remarkable figure who achieved a huge success against the odds. Growing up with four siblings and parents who were both teachers, she had an excellent academic record but was unable to attend the University of Warsaw because of gender bias. Undeterred, she signed up for an underground "floating university" as well as working for five years as a tutor and governess to fund her studies abroad. Even with little money, she threw herself into her studies in physics, chemistry, and mathematics while living on nothing but bread and tea in Paris. In 1893 she completed two Master's degrees from the Sorbonne despite all the financial and social obstacles she faced.
5. Grace Hopper
Grace Hopper, the distinguished "Queen of Code," is a renowned military leader, mathematician, and computer programmer. After graduating from Vassar College in 1928, she went on to receive her Master's degree in mathematics from Yale University in 1930 as well as her PhD degree four years later.
During WWII, Hopper used her programming prowess as an active member of the Navy to help construct one of the world's earliest computers named Mark I. Post-war, she dedicated herself to Harvard's mission, to develop and perfect machines such as Mark II and III. By 1986 she had become the oldest commissioned officer with distinguished honors in the United States military when she retired from her service.
6. Katherine Johnson
Only 15 years old, Katherine Johnson became an enrolled student at West Virginia State University in 1933. She then graduated in mathematics and her hard work was recognized by the Langley Research Center with the National Advisory Committee for Aeronautics (NACA) that preceded NASA - hiring her as a research mathematician in 1953.
By joining the all-male flight research team, she was able to make crucial contributions towards space exploration and its programs; this includes Project Mercury - which marked humanity's first astronaut in outer space - as well as Apollo 11, famously known for Neil Armstrong and Buzz Aldrin's mission to step on the moon.
7. Hedy Lamarr
Austrian-American actress and inventor, Hedy Lamarr, was a revolutionary mind who foresaw the foundation of our contemporary WiFi, GPS, and Bluetooth communication systems.
Alongside George Antheil, Hedy invented a revolutionary communication system using frequency-hopping radio waves during World War II and was awarded a patent in 1942. Despite their invention not being accepted by the Navy, Hedy decided to serve her country by selling war bonds. Little did she know that this willingness to keep going would eventually lead to her being celebrated for her outstanding innovation - with awards being given in 1997 and again in 2014 when she became part of the National Inventors Hall of Fame. Today, due to the major contributions of Hedy Lamarr and her forward-thinking invention, she is known as "the mother of Wi-Fi" - paving the way for wireless technology such as GPS and Bluetooth.
8. Ada Lovelace
Ada Lovelace's legacy lives on as she is known to be the world's first computer programmer. Her genius and innovative ideas led her to recognize applications beyond basic calculation used by Charles Babbage's mechanical general-purpose computer, the Analytical Engine. In fact, Ada was also lauded for creating the very first algorithm intended for such a machine!
Ada Lovelace's childhood was no easy feat. Despite her often frail health, she strived to pursue her studies, eventually connecting her with influential scientists such as Andrew Crosse and Charles Babbage. Together they shared knowledge of mathematics and science-related topics - topics such as the Analytical Engine that Ada later became a renowned figure. Her notes on Luigi Menabrea's article about the Analytical Engine remain historically significant today, not just as one of the earliest computer programs ever written, but also for its impressive insight beyond mere number-crunching capabilities - something many scientists lacked in those times. Ada Lovelace is an inspiration to us all and teaches us it is possible to accomplish great things despite any obstacles that may impede our progress.
9. Lise Meitner
Celebrated as the "Mother of Nuclear Power," Lise Meitner's groundbreaking contributions to science are unfortunately little known. This remarkable scientist earned her Doctorate degree in 1906 following her studies at the University of Vienna and has since become a leading figure in physics research.
Later, physicist Lise Meitner joined forces with chemist Otto Hahn and together they made remarkable discoveries. Of all their joint breakthroughs, the most notable one was nuclear fission - a feat that earned Hahn the Nobel Prize in 1944. However, even though she had been an integral part of this discovery, Meitner wasn't credited at all which led many to dub it as "The Nobel Mistake."
10. Cecilia Payne
Even though Cambridge University did not award degrees to women in the early 1920s, Cecilia Payne was determined and eventually completed her education exactly there. She then ventured to America where she made history by becoming the first person - regardless of gender - to earn a Doctorate degree in astronomy from Harvard! Later on, she achieved another milestone when she became Chair of the Department of Astronomy at Harvard, making her its very first female head.
Payne's 1925 doctoral thesis was revolutionary when she explored the essential astrophysics question of "What are stars made of?" and provided an answer.
11. Florence Seibert
After graduating from Yale University with a Ph.D. in biochemistry, Florence Seibert devoted over two decades of her life to teaching at various universities. Her longest tenure was an astounding 27 years spent lecturing at the prestigious University of Pennsylvania.
At Penn, Siebert launched her most groundbreaking work in tuberculosis research. She innovatively discovered a method to extract protein from TB bacteria that has become the global benchmark for TB testing - and is still implemented today.
12. Nettie Stevens
In 1899, Nettie Stevens earned her Bachelor's degree  fromStanford University.  . Soon after acquiring her Master's degree in biology the following year, she further pursued a Doctorate at Bryn Mawr College situated in Philadelphia.
The groundbreaking research that she conducted on cytology and the regenerative process led to her revelation of X and Y chromosomes. This monumental finding further propelled a series of major scientific advancements, such as establishing an indisputable relationship between heredity and specific chromosomes for the first time ever.
13. Sally Ride
Sally Ride is undoubtedly the most celebrated of all women on our list. She completed a double major in English and physics at Stanford University, before obtaining her Master's degree in Physics and Doctorate Degree by 1978.
After obtaining her PhD, Ride outperformed a thousand other contenders to be chosen by NASA's astronaut program. As a mission specialist, she made history when she became the first U.S. female to go into space on June 18th, 1983.
14. Jane C. Wright
Jane Cooke Wright revolutionized the medical field with her groundbreaking discoveries in chemotherapy and cancer research. Her most remarkable contribution was the development of a cutting-edge approach that used human tissue culture, instead of lab mice, to measure drugs' effects on cancer cells. Thanks to her pioneering work, she achieved recognition as an esteemed surgeon and researcher.
Jane transformed the application of methotrexate, a medication used to tackle breast cancer, skin cancer, and autoimmune diseases.
15. Chien-Shiung Wu
Chien-Shiung Wu, lovingly known as the "First Lady of Physics", was born in China in 1912. After graduating from the National Central University of Nanking in 1936, she journeyed to America for further study and earned her PhD at the University of California-Berkeley by 1940. Her remarkable work and research remain a hallmark achievement within physics today.
During WWII, Wu became a part of the Manhattan Project at Columbia University - the Army's clandestine effort to build an atomic bomb. Following the war, she kept up her investigations there and with two male companions disproved a physical law of balance known as "the principle of conservation of parity". In 1957 both her male colleagues acquired Nobel Prizes for their involvement in this work; unfortunately, Wu did not receive any recognition for hers.
Women in the STEM fields have created a strong legacy of accomplishments that benefit us all. Throughout history, they have faced significant challenges while pushing boundaries with their inspiring contributions. Today, their dedication drives progress as female innovators continue to break stereotypes in STEM and open doors for new generations to follow in their footsteps. Their accomplishments prove that gender equality is essential for continuing to advance in these areas and inspiring young women to pursue careers in STEM.