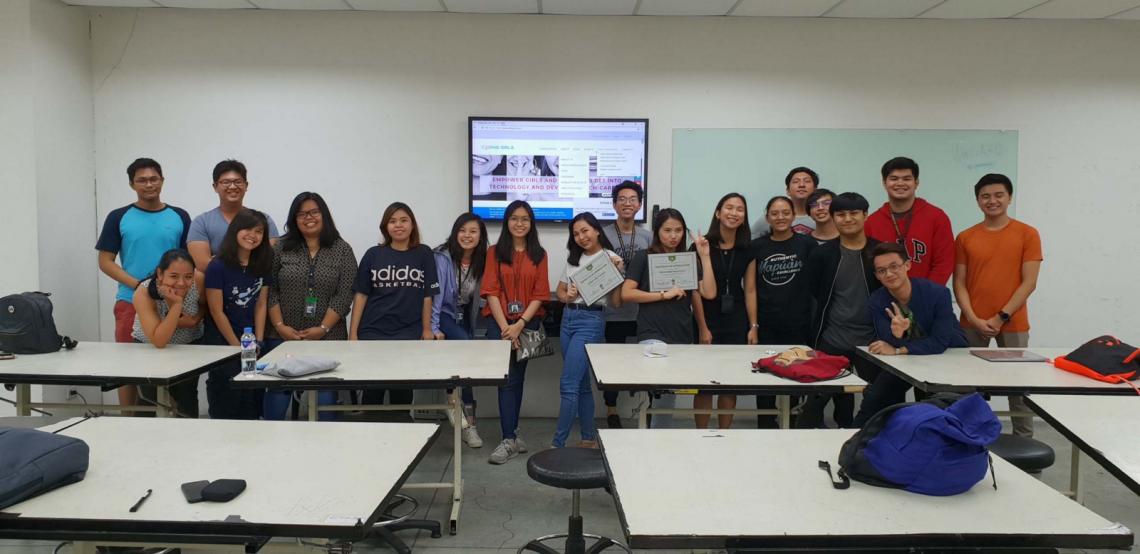 As part of the initiative to accelerate the diversity and inclusion of the female representation in the tech world, Coding Girls Manila continuously creates partnerships with universities through student organizations.
In partnership with AIM, a team building activity for the incoming CSB leaders of Coding Girls Taft was conducted last May 26,2018. The purpose of the activity was for leaders to get to know each other and learn from each other. It started off with a speech from by Wilzen Brian Alamario, AIM's president.
Through the efforts of Minrie Macapugay, this establishment of the CG club in Benilde wouldn't be possible. She hosted the event and shared her advocacy in honing girls in Taft to code. Here are some interesting facts about Minrie:
Alumni of De Lasalle College of Saint Benilde

Product Developer, CTO of WoomenPH and StyleGeniePH

Startup IT Consultant

Feminist
Coding Girls: Mission Impossible
With my advocacy for empowerment, I stepped up to say this, "Let's empower girls to code today for a diverse tomorrow." A mission that is close to my heart, increasing the number of women in STEM has not been an easy task, but this mission has been made more and more possible every day through organizations like Coding Girls. Sharing what Coding Girls is and our mission, vision, and values became something I've been accustomed to now.
OUR MISSION
Our mission is to empower girls to get started in coding and to increase the number of women in technology, leadership, and entrepreneurship.
OUR VISION
An inclusive and diverse world with females as tech innovators, leaders, and entrepreneurs who make a positive change with the help of code.
OUR VALUES
Inclusion: Everyone matters and matters equally.
Support: Creating a culture of friendliness and understanding.
Empowerment: If you are willing to learn, we are willing to show the way.
Diversity: Our differences spark innovation.
Courage: Acting with courage in order to shape the future we want to be part of.
Teamwork: Together we can.
Making a difference: Making a positive change in the world with the help of code.
This year, we will continue the nationwide recruitment that we have started last year in the movement towards achieving the diverse tech world we all want. Our aim is to expand through establishing CG clubs in different universities across the country. This campus recruitment initiative offers valuable information for the attainment of bridging the gap in technology and entrepreneurship.
CSB is one of the campus partners we now have and hopefully, we will be able to successfully grow the Coding Girls Taft community by expanding through partnerships with other universities in the area.
Coding Girls: Breaking Stereotypes
Aileen Romero, a mobile developer from Spark Technologies, talked about a much more controversial topic: gender stereotypes in the tech industry. During her discussion, she highlighted how they are only few women developers in the said industry. Statistics show that 8 out of 10 software engineering jobs are still going to men. With the belief that women can perform well in this industry and even dominate in it, she pointed out a key characteristic that women have an advantage on: cleaner code. Her journey to becoming a full time developer inspired the attendees. Wrapping up, she gave tips on learning a new language and building work ethic.
Coding Girls Manila: Taft Invasion
The team building event was composed of two activities:
CSBook, a low tech social networking activity, promoted connectivity among the participants. Dividing the group into two teams, each group was able to map the connections they had through common interests. This was modeled after Facebook. It was definitely a good kickstarter to get the leaders acquainted with each other.
The main activity was a shark tank pitching demo with the theme of women empowerment. The teams were able to come up with these amazing projects:
Trigocode — Anonymous posting of gender in tech for organizations, the purpose of the app is to not let employees discriminate code contributors in their platform by hiding the gender of the developer.
Online IT Academy for Women — An online learning platform for women by women which allows women volunteers to share their knowledge on programming so that women can learn how to code. They can share videos and texts modules that will come with a forum so that women can relate and inspire each other when it comes to coding.
Gentleman's Club — In-campus seminars for young boys (from elementary and high school) focusing on raising awareness on rape culture, "no means no," and victim blaming.
CoLove — An online professional discussion website and forum where individuals of the same profession could collaborate and share ideas from the perspective of the other gender. In a nutshell, LinkedIn + Reddit.
"We really had a great time! It was nice to finally meet girls will mentors us. I was really having a hard time relating to guys in my class. In our batch, we only had about five girls. These are reasons why it was nice to finally meet women who are starting to make a name in the industry." This testimony from Yel Gaminde also included her relief on the reassurance of a better tomorrow for diversity in the tech world. She mentioned that "joining coding girls is proving to be a good decision." With the warm welcome given by the leaders of CGM, the girls of AIM felt the sisterhood in the community.
---
Together towards tomorrow — this line conveys a message to all of us: working without gender biases will create a better future for each one of us. This is why Coding Girls welcomes everyone to our community. Whether you're a girl, a boy, or of any gender, you are very much welcome to join us.
If you and your organization are in line with what we are focusing on — preparing girls to become the role models of the next generation in order to shift the paradigm and to create a balance, we are inviting you to take part in this movement as a campus-based club under Coding Girls Manila.