There are so many great ways to learn and sharpen your tech skills nowadays: you can read blogs, listen to podcasts, attend free webinars, etc. Why bother with the time and expense of an in-person conference?
The thing is WeAreDevelopers is not any conference, it is one the largest conferences, not only on European but also on a global level, bringing the world's leading tech pioneers together. In 2018 there are going to be 8000 people. Can you imagine it? 8000 people and you could be one of them? But probably, you are wondering why? Why you should go there?
Let us give you 5 good reasons WHY we will be and you should be there:
WAD enables minority and underrepresented groups in technology to be part of the event. This includes, but isn't limited to: people of color, women, LGBTQIA+ people, and people with limited abilities. Applications are accepted until 31st of January 2018. Apply here!
In the beginning of December WeAreDevelopers (WAD) joined the European Union's Digital Skills and Jobs Coalition in order to make the program more diverse and inclusive. Currently 60% of the speaker lineup consists of women.
Some of the ladies in tech to be expected at the conference: a "Technology Rising Star" Angie Jones  from Twitter, Jina Anne from Amazon, Amanda Cavallaro from Women Techmakers London and many more.
#2 Because "The Woz" is going to speak there!
WAD brings the world's leading tech pioneers.
Mr. Wozniak, also nicknamed "The Woz", also known as one of the fathers of the personal computer, of the three founders of Apple Inc., one of the largest tech companies on the planet is going to take the floor at WAD and you could even meet him in person!
Apart from this great news, no matter what you do, it is always helpful to have a healthy professional network if you are in a long-term career path in tech. At WAD, you'll get the chance to meet like-minded people in tech who may become part of your network in many ways: technical peer, future employer/employee, partner, co-founder, business lead for a new project.
#3 Finally to get to know about WTF?
Everyone is wondering...WTF, means "What's the Future" bringing us:
Have you ever wondered what is the future going to be like? What to expect in 2025?
WAD definitely did. In 2018, some of the predictions are going to be revealed.
From future technologies to managing innovation, WeAreDevs is focusing on talking about new, important, emerging and latest topics in tech such as Serverside Technologies, IOT/ Robotics, Reactive Web, Mastering Mobile, QA and Security, Product Lifecycle.
The best way to stay up-to-date with the state-of-the-art inventions and trendy topics is to be part of the present, to be part of WAD, to be surrounded by developers, shakers, makers, doers and gamechangers.
#4 Shaping the World
WeAreDevelopers was founded in order to enable developers to share their knowledge and experience with one another globally. The mission of WAD is to connect developers worldwide.
So, instead of sitting and thinking about the future, potential opportunities and next steps, the best thing you can do in the new year and the best present you can give is a ticket to WeAreDevelopers, the ticket to a better life and endless networking opportunities.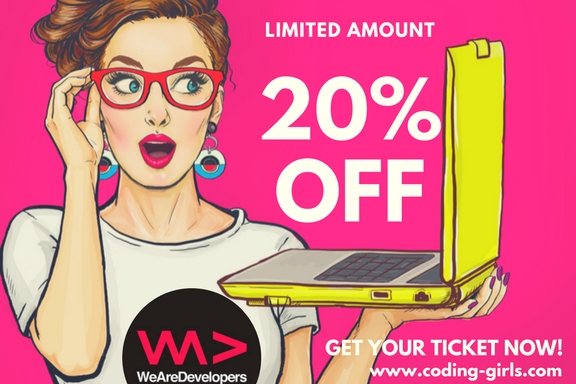 #5 Because Coding Girls are going to Vienna
Coding Girls is also going to be there. We want to support our community of coding girls and give a change to those who are motivated, thirsty to learn and want to make a difference in tech. The amount of discounted tickets is limited! Hurry up to get yours! Get your discounted ticket now!
Follow WAD on Twitter and find out more news using the hashtag #WeAreDevs
Check out the video about WeAreDevs from last year.  
Sharing is caring!